What you get...
Sorry, we are currently sold out of the Campfire-In-A-Can and are unable to obtain more units from the manufacturer. We are currently seeking an alternative product to offer to our customers as it appears unlikey that we will have access to the Campfire-In-A-Can product again in the future.
The Campfire-In-A-Can ® Gas Can is a complete portable propane campfire / fire pit.
It is light weight (only 15 lbs.) and compact (14.75" in diameter and 10.25" high).
It comes complete with a 10' hose, regulator, multi-function lid, Super Glow ceramic chips, and artificial log set.
For use anywhere you can use a real campfire and a lot of places you can't!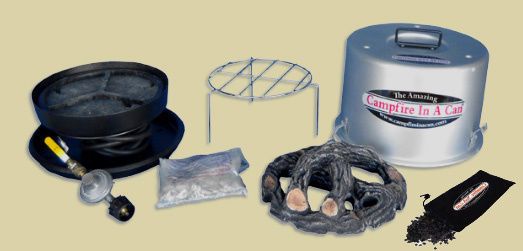 The package includes absolutely everything you need to begin enjoying your Campfire-In-A-Can ® campfire, except the propane tank. We recommend a 20 lb propane tank, as you would use on a standard propane barbeque - they can be purchased at all home supply stores and they are inexpensive.