Portable Propane Campfires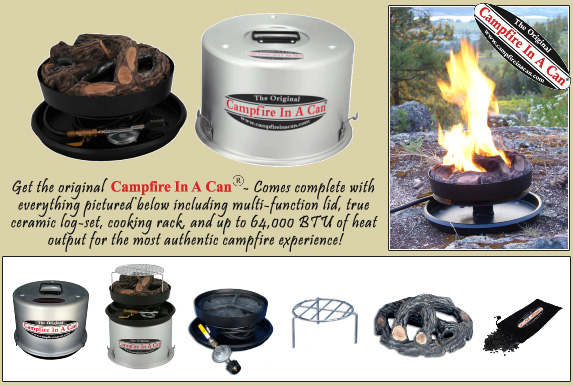 The Campfire-In-A-Can ® propane-powered portable campfire is ideal for backyard campfires and barbeque areas as well as for your favorite camping spot, RVing, tailgating parties, and more. This propane or natural gas campfire can be set up in literally minutes, providing you with a clean burning, safe, authentic looking camp fire for the enjoyment of your family and friends. Enjoy the comfort and ambience of a campfire without the smoke or mess. The Campfire-In-A-Can ® can even be used during local burning or fire bans in most jurisdictions! Instead of chopping wood for your traditional fire, sit back and relax with the Campfire-In-A-Can ® portable propane / natural gas campfire - just seconds to set-up! Click here for more information on the Campfire-In-A-Can
Other portable propane campfires just don't compare to the Campfire-In-A-Can! We recently did an independent comparison of all major propane campfire brands on the market and evaluated each model in 4 major categories including BTU output / flame profile, safety certifications, portability, and materials of construction. See our Campfire Comparison page for full details. As you will see, the Campfire-In-A-Can was superior in every single category!



Why Choose Campfire-In-A-Can ®?


| | |
| --- | --- |
| | includes two fire features, black fire glass and ceramic log set |
| | natural gas conversion orifice included, easily convert from propane to natural gas |
| | up to 64,000 BTU output, literally the hottest propane campfire on the market! - fully adjustable flame height |
| | Safety tested and certified to CSA standards - the only propane or natural gas campfire with a zero ground clearance to combustibles |
| | includes durable authentic-looking true ceramic single-piece log set |
| | includes cooking rack - great for the coffee pot or skillet! |
| | less than 15 lbs! Easy to carry...easy to store! 10 ft. hose wraps up and stores inside the cover! Now, that's convenience! |
| | aluminum canister top functions as both a stand and protective carrying case |
Great gift idea!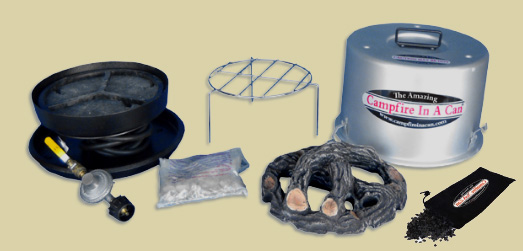 Customer Service
TOLL FREE
1-866-376-2690
Monday to Friday
8:00am to 4:00pm (Pacific)
Campfire-In-A-Can ® is a registered trademark of Leo Knight